propos recueillis par Nicolas Vidal
I grew up in Maine. I was born in York Harbor, a small fishing village with a thriving summer tourist scene. The area attracts scores of artists because of its rustic qualities and old-world charm. We had plenty of exposure to art in the region. In fact, the expectations of art were set pretty high because of the thriving local arts and its academic background. As a child I saw some of the finest examples of original modern art of our time. They amazed me so that I was compelled to master the skills of artistry even as a young boy. Maine is also quite rural, so navigating the woods came natural to me. I would walk for miles alone without a compass or a road to follow. As much as I knew the land, I was master of the waters as well. Between sailing, fishing and diving I had spent as much time in the water as I did out.My world was fashioned from the rawness of nature's reality and the fanciful treatments of my perception. My connection to nature undoubtedly is engrained in shapes and patterns within my art. Both my family and our community possessed a whimsical quality that remains in my art to this day. I would have to say my childhood is what inspired my art the most.
Where do you live today? Are you rather a city or a country person?
I live across the bay from San Francisco in the small town of Sausalito. I can see the city from my studio but I have to cross the Golden Gate Bridge to get there. Over the years I have lived in many places across the United States and I finally found the perfect balance between living in a big city and the country. Sausalito allows me access to both.
What teachings did you follow? What of essential did you learn in school? And what could you do without?
In 1980 when I was interviewing for art schools, they were not encouraging figurative work. I was told that my abilities would not be appreciated. I chose to work as an illustrator rather than become an abstract painter. The fashions in art have changed several times since then and fortunately figurative work has maintained a strong interest from art collectors. As far as art education, I have almost none. We had art class in grade school but it was pretty basic. I learned my techniques through observation and trial and error. I had to persevere alone just like I had in the woods. The most valuable lesson I had learned was when my tenth grade English teacher entered a series of my political cartoons in a national journalism contest and I won first place. Aha! The power of the pen does not apply only to writing. The other thing that stuck in my mind was when my high school art teacher (a woman of few words) said "You know, it would be a shame if you wind up driving a truck."
What tools and materials do you work with?
For the greater and earlier part of my career I was well known as a watercolorist. I have for the most part departed from watercolors and now work primarily in acrylics on panel or canvas. I'm still fond of pencil drawings and see them as an essential to my work.
Do you have mentors?
It is hard for me today to find a mentor but I'll never forget Alan Magee's generosity in sharing his wisdoms with me.
Do other fields (literature, nature, etc… ) influence your work? Which one(s) in particular?
Of course, nature is my greatest inspiration. When you mention literature, I can't help but draw the connection between Ernest Hemmingway's works and my childhood. I was less into mythology than I was into Jules Vern. I'm also into science and history as it correlates with art and religion. Music has always been the other half of my family's artistic inclinations and for me it remains part of my emotional tapestry.
Do you remember an encounter which might've fueled your art?
Anytime I encounter really good art, I want to go back to the studio and create. It's as if the artist showed me the possibilities. They introduced me to a feeling and I have to have more. The artist does not need to be there in person. Their soul is displayed in their artwork.
With what adjective(s) would you describe your painting? Eccentric? Baroque? Surrealist?
All of the above and more. "Fantastic" would have been the academic term until about six years ago. We now have the acceptance of new movements in art such as Steam punk, Neo-Victorian, lowbrow, pop-surrealism. Imaginary Realism and Magical Realism are two new ones struggling to stake a claim. My art could fall within any of these categories. I consider myself a romantic surrealist. I'm influenced by Art Nouveau and Belle Époque, Gothic, Renaissance, Victorian, vaudeville, and wherever else I wonder.
You seem to appreciate complex architecture: do you find our homes and buildings to be too classic, too bland, unimaginative? What architectural movement in particular lures you?
I see architecture as an expression of the owner or, more importantly, the inhabitant. We as humans are pre-programmed to express ornament and symbols that speak of our ideals. I grew up in New England amongst wooden houses dating from the 1650-1890, many of them built by the inhabitants. They would expound or embellish as they saw fit or depending on which materials they had available to them. This is a type of freedom the "new world" allowed. I find Barcelona's Art Nouveau to be another example of architectural expression not entirely different from the Victorian. I am equally impressed with the chateaux throughout Europe. Anything inspired by a dream. It's the industrial or governmental intention of architecture that usually falls short of intimacy. But of all the disappointments one could have with architecture none is greater than the simplification for the purpose of economy. As fair as it might be, I just prefer to see the evidence of human expression and spirit oozing at the seams.
In your paintings do you show the world as you would like it to be?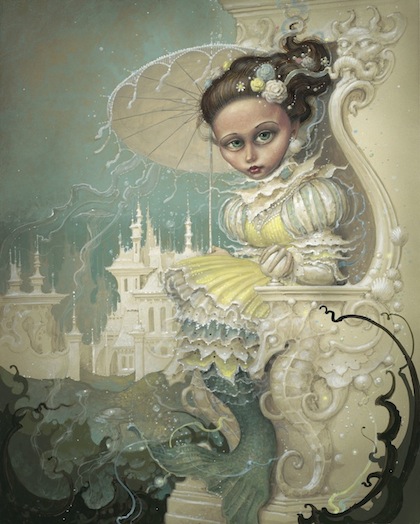 I only have time to show a small slice of what I would like it to be. My paintings are composed of my ideals and filtered in many different ways. We are all empowered by our limitations and in many ways I am testing my limits.
It strikes nostalgia for a time when the costumes were sewn with a gold thread and hair was skillfully styled, am I right?
Much has been lost from the legacies of cultures and each generation restores a touch of it. Perhaps our descendents will look back on our fashions as more ideal. Who doesn't love a good wig once and a while? I like to dress in costume and go to a ball. I'm a time traveler at heart.
Is it an artist's dream to participate in costume balls in the Venice carnival or in the end-of-the-year parties in the Russian palaces?
Not only artists but people from all walks of life would love to indulge in these frivolities.
You use an extremely large pallet, however you seem to appreciate the lively and warm colors …the choice of color, is it a crucial moment in the drawing?
It is usually necessary to plan the color story as the first strokes will show through till the end. It is also necessary to have the element of discovery as that is what color does best.
What color represents you best and why?
Green or maybe red. Blue is quite nice. Come to think of it, I can only be momentarily partial to colors or I will not be able to utilize the "color wheel".
Among the recurring themes in your paintings we find circus and theater? Why?
These are the arenas where imagination abounds. I have an affinity with the performer, I suppose because I'm also performing through my art. The stage is my easel.
Your paintings are also populated with mythological creatures…Is it because you are more drawn to the imaginary beings rather than realistic faces?
There is another dimension I can enter when I employ the imagination and the creation seems to belong more to me.
Do you sometimes paint realistic paintings of landscapes or real people? Commissions for example?
One would probably not want to commission a surrealist to paint their portrait unless they wanted a tail or three ears. When I was getting started, I had done quite a lot of realism and had been commissioned for a number of portraits (tails excluded of course).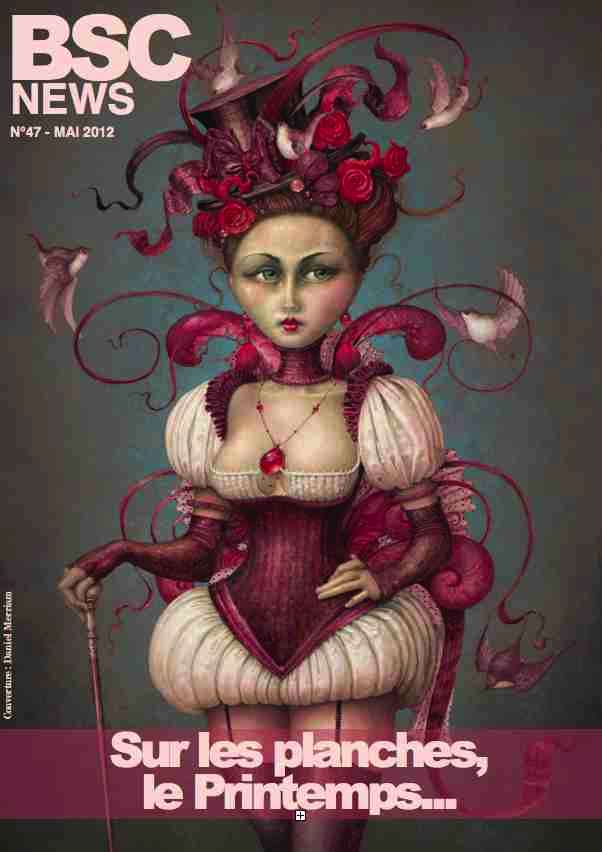 We chose Center Stage as our May cover: could you explain to us the story of this painting?
I had been developing her character in smaller form in other paintings for a while. She is daring and I had to become as daring as her to bring it out of me.
You published three art books, right? Do you know if they are available in France in any bookshops? Where can we get them?
In France, you can purchase my book at Château de Belcastel, either when you visit this beautiful Aveyron castle or from their website: http://chateaudebelcastel.com
Your last book is called « Taking Reality by Surprise « : is it your pictorial credo?
In my process of creation and in my daily life as well I look at things from the surreal or magical perspective. This makes almost everything more dynamic for me because you never know what a subject might provoke.
What's planned for this year 2012? Exhibitions? New paintings? Tell us more…
My new exhibit is opening at AFA Gallery in New York on May 26, entitled "The Greatest Show on Earth". It's a body of work dedicated to the circus and it was inspired by my painting by the same name. This year I started to exhibit in Las Vegas at Caesar's Palace (with Exclusive Collections Gallery). I am very excited to be finishing construction of my own concept gallery in Sausalito, which is scheduled to open in early July. My architectural design was the topic of heated debate amongst the local government and the building promises to be one of my greatest accomplishments to date. At the end of November two of my paintings will be on display at Grand Palais in Paris as part of a group show organized by the Salon Comparaisons.
For the latest updates, please visit my website www.danielmerriam.com or www.facebook.com/DANIELMERRIAM