propos recueillis par Nicolas Vidal
– You cummulate three different jobs ( character design, visual development and illustration) : could you tell us what each consists of?
Character design, visual development, and illustration are similar in many regards and sometimes they even overlap. The difference between them is mostly what the image is going to be used for.
Character design is when I help to give visual form to a character or creature based on a description in a script or notes from a production team. Character design happens in many fields such as the film/tv industry, video games, and even logo design if a company wants to develop a character to be their mascot. Though it varies on each project, character design can cover everything in the design process from initial loose sketches all the way through to working with a team of CG modelers, painters, and animators to arrive at the final shapes, colors, textures, expressions, and poses of a character.
Visual development usually refers to the early pre-production period of a project in the entertainment industry. The main goal of a visual development artist is to explore possible visual solutions to the characters, environments, vehicles, props, etc. that will be seen in a film or game. It helps to discover the overall look of the world and its inhabitants. A specific style is sometimes less important in this phase than just brainstorming interesting ideas. Ideas produced in this phase can then later be refined and detailed for the final film or game. Illustration usually refers to a single image, or series of images, used for a specific purpose. An illustration is usually the end product where the images produced in character design and visual development are just stepping stones used to arrive at the final product such as a film or game.
– When we know about your attraction for aliens, we imagine that in Men in Black you were a member of those who created them? Yes, I was fortunate enough to have the opportunity to be one of the artists involved in creating the aliens for the film, Men In Black II. This was in 2001 and I was working for Rick Baker's Cinovation Studios at the time who was responsible for creating the make-up and animatronic aliens for the film . MIB2 was a lot of fun because I was helping design crazy aliens for the big screen! It was one of my early projects after arriving at the Los Angeles film industry from my homestate of Minnesota. There were many very talented people working to create the aliens and I learned a great deal from them. I started off being involved with the design process, producing many many drawings and paintings. After that, I helped with painting some of the final alien suits and puppets that went to the film set.
– Where do you live? Rather near nature and animals or in town but near a zoo?
I grew up in Minneapolis, Minnesota, but always dreamed of one day working in the movies. A few years after studying art in college I packed up my small car to the ceiling and moved to Los Angeles, one of the hearts of the American entertainment industry. I have lived in the city of Los Angeles for nearly twelve years and yes, luckily there is a great zoo nearby. I try to get to the zoo as often as possible to draw, photograph, and study my animal friends. We also live fairly close to San Diego which has the great Zoo and Safari Park as well. – With what materials and on what supports do you imagine your illustrations? I like to use a variety of different materials. This keeps things interesting for me as an artist. The tools I use most frequently are pens, pencils, colored pencils, design markers, watercolor and gouache. Usually I will work on various types of paper or illustration board.
– This attraction for the extraterrestrials comes from a taste pronounced for the strange, science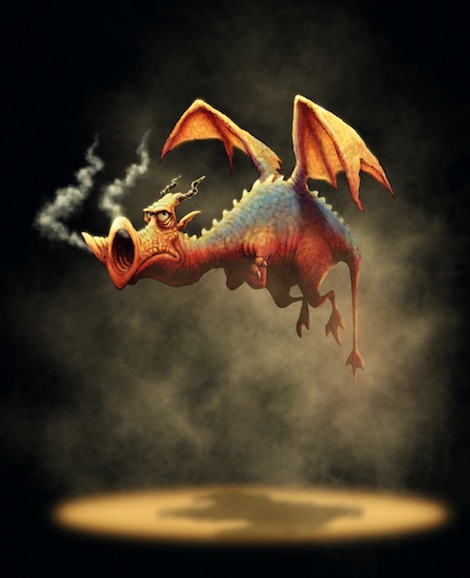 fiction? What are your references in science fiction? I've been a lifelong fan of science fiction, mythology, aliens, animals, spaceships, animation, children's picture books. Really anything that has a great story filled with adventure and monsters! There were many early influences in my artistic development such as the children's books of Dr. Seuss, Bill Peet, and Maurice Sendak. The stop-motion animation of Ray Harryhausen was a big influence as well as many of the old monster movies. Probably the biggest single science fiction influence in my childhood was Star Wars. It gave rocket fuel to my imagination.
– Do you find simply that their oddity has something funny which pleases you? I like to think that I've got a good sense of humor and don't take things in life too seriously. Life is too short for that! It of course depends on the desired tone of the project but, when possible, I like to try to bring a certain level of humor or oddness into the characters I design. It may not be a laugh-out-loud type of humor, but above all I try to give many of my characters at least a subtle comedic sense. This is most evident in my personal work. You have to be careful when working as a freelance artist on someone else's project because trying to put humor or silliness in the wrong spot or style can be a bad idea.
– You also resort to Greek mythology. Is drawing monsters more interesting than normal things? Yes, Greek mythology was another big influence in my childhood. I remember greatly enjoying the tales of Theseus, Hercules, Perseus, Icarus, and all the gods and monsters that accompanied them. After reading the stories I would enjoy drawing my versions of the characters.
– Why a bird for the first day of the daily zoo? The Daily Zoo project was created as a response to being diagnosed and treated for acute leukemia, a type of blood cancer. I was diagnosed on April Fool's Day in 2005 and underwent many months of treatments such as chemotherapy and total body radiation. It was not fun! But luckily I had very good doctors and was surrounded by supportive family, friends, and a girlfriend (who is now my wife!). A year after my original diagnosis I started The Daily Zoo. My goal was to draw one animal each day for a year. My physical recovery from the cancer was mostly done, but I knew the emotional and mental recovery still needed to be completed. I decided that the best way for me to help this recovery would be to do something that I've always loved to do (draw animals!). The very first animal I drew for The Daily Zoo was a blue-footed booby. I am not exactly sure what made me choose that animal, but I find them to be curious and slightly humorous creatures. How could you not love an animal that has blue feet?!!
– This daily zoo doesn't consist exclusively of real animals : each does it represent your day humor? Or the choice of the subject was perfectly arbitrary? You won't find some of the animals in The Daily Zoo in any other zoo since they are completely creations of my imagination. Ever since I was a child I have enjoyed creating my own creatures and monsters. So on some days, I draw the Daily Zoo sketch using just my imagination. But even when I create an animal from my head I usually try to give it some traces of animals that we all know. For most days of The Daily Zoo, I do not know what I am going to draw until I actually sit down to do it. Some days the animal or theme reflects something that happened to me on that particular day. Often they reflect my current state of mind or mood, even if only on a subconscious level. Some days the choice of animal is completely random.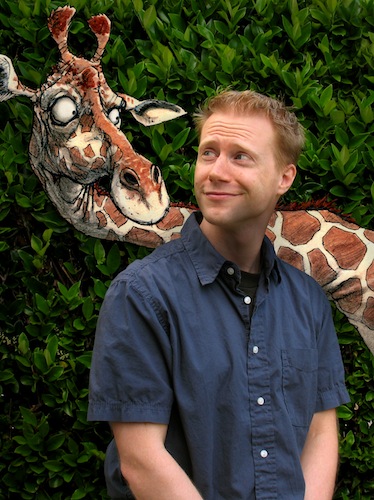 – You say : « I embraced humor which can be such a powerful weapon. I tried to find the absurd, insane, and funny aspects in an otherwise very tense situation. » Would you say that your experience made you draw otherwise? I think my artwork and characters (and the situations I put them in) have always tended to be more towards the humorous side of things. Like I said, I've tried not to take certain things in life too seriously. Laughter is definitely one of the best types of medicine.
– Two books of the daily zoo were published named Keeping the Doctor at Bay with a Drawing a Day: your creed of optimism? Yes! I believe that, for me at least, creating art is part of maintaining a healthy lifestyle. My cancer experience has reinforced to me just how unpredictable life can be. It is very important that we pursue our passions. It doesn't have to be drawing either. It can be singing, sculpting, acting, writing, cooking, gardening, solving math problems, inventing ways to protect and conserve the environment, etc. I think that the more we exercise and challenge our creativity and imagination, the better off we will be not only as individuals but as society. Drawing each day may not keep the doctor away all of the time, but it will put me in a better state of mind to meet life's many challenges with strength, courage, humor, and creativity.
– …. Front covers represent a sick flamingo and an elephant: can you tell us more about the inside? The Daily Zoo books, Years One and Two, each contain a year's worth of daily animal sketches along with commentary about my artistic process and my cancer experience. I talk about where some of the ideas came from, how I create them, and use many of them as visual metaphors for the challenges that I encountered during my cancer journey. And in spring of 2011 MY Daily Zoo was published. It is a drawing activity book, suitable for artists of all ages, based on The Daily Zoo and allows the reader to participate in the drawing fun.
– And when you begin to draw a human character, of whom do you think at first? Its figure? its nose? its general look? What makes the originality of a character according to you? Very rarely will I have a crystal clear image of a character in my mind when I first start to draw. More often it is a vague, blurry idea…more a feeling than a picture. I try to concentrate on a character's overall presence on the paper first such as his or her pose, silhouette, and attitude. Once I get that working, then I will start to add details such as facial features, fingers, claws, and scales. I try to make characters that intrigue the audience. Ideally, I want them to look at a character and want to know more about the character. I want the character to make an impression in their mind. Sometimes, a strong visual design can accomplish this, but I feel the best characters have – in addition to great visual appeal – an electrifying magic between their ears. That is, something going on in their heads. For a character to really jump off the page and into our imaginations, we need to be able to connect to him or her in some way whether with love, humor, fear… I try to give my characters personality with their facial expressions and body language.
What are the rules of a successful illustration of character for an animation? Facilitated to be reproduced and nevertheless peculiarity of the character? The technical rules and guidelines for designing a character depend a great deal on how that character will ultimately be brought to life. With traditional hand-drawn animation it is important to remember that this character will have to be drawn twenty-four times for each second of film so the design and details need to be simplified to make this possible. If a character is going be brought to life via computer-generated animation (CG) there are still considerations to be taken into account (such things as lots of fur or flowing fabric can still be very expensive in terms of animation and rendering time) but overall it does open up many other options. Regardless of the medium that is used to animate a character, in order for it to be a successful character it has to be supported by a good story, a good visual design, and be able to connect with the audience.
– What works will you expose to the gallery Maghen? Is it your first exhibition in France?
Most of the pieces that will be exhibited at Galerie Daniel Maghen are original Daily Zoo sketches. After completing the first year of The Daily Zoo, it proved to be such a fun and therapeutic endeavor that I have continued drawing an animal each day. I am now in Year Six (over 2,000 drawings and counting). The pieces on display are mostly from the last few years of The Daily Zoo. This will be my second time in Paris and my first exhibition in France.